Here are the details of the new Summer Combat Events that were added in the most recent Maintenance! We hope you enjoy them!
Lightening Dog
Travel to Pet Hill in search of the Lightening Dog! He appears in a random location in the zone every 4 hours. You will need a team of at least 3 players to take on the challenge. He looks like a common house dog, but he possesses powers beyond his size!
Once you defeat the Lightening Dog, more minions will be spawned! They are the Vampire Bat, and the Gnaw Lizard. Now you must defeat them, for your valor is being tested!
Once you have defeated Lightening Dogs minions, there is a chance that they drop Pet Skill Books.
Note:
The System Text tells you that Lightening Dog Event is being carried out in Pet Island. This text is incorrect. The Event actually occurs in
Pet Hill
.
Battling the Lightening Dog:
Line of Defense
The system will automatically picks 2 guilds at random from all the guilds on your server. When the event starts, there will be a notification that the Line of Defense Event has begun. (There must be at least 2 guild cities on your server, or the event will cancel itself) The guild members that are level 85 and above must travel to their Guild City in search of the Mountain Fairies that will start the event for them. But take heed, I have a feeling that they're up to something...
You must be in a team of 3 or more people to qualify for this event. After you're in a team, you must talk to one of the Mountain Fairies and they will transport you to an instance that looks just like your guild city, but it's been overrun by Mountain Ghosts!
Defeat all the Mountain Ghosts to be confronted by a Mountain Demon named Rock Freak. If you defeat him, there is a chance that he will drop items such as the Essence of Clouds, Class Sets, and more.
Demon NPC from Line of Defense: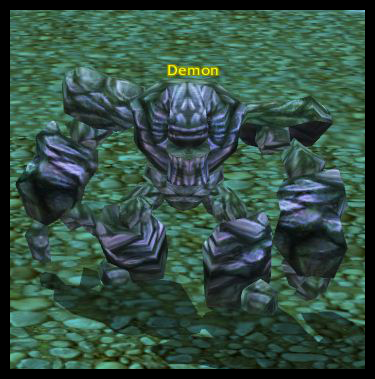 Pharmacy Closeout!
Want some help with the events above? Need extra health potions or want to speed up your progress to the next level? All items in the Consumables:Medicine page of the Token shop are 20% off for 1 week! Good luck!